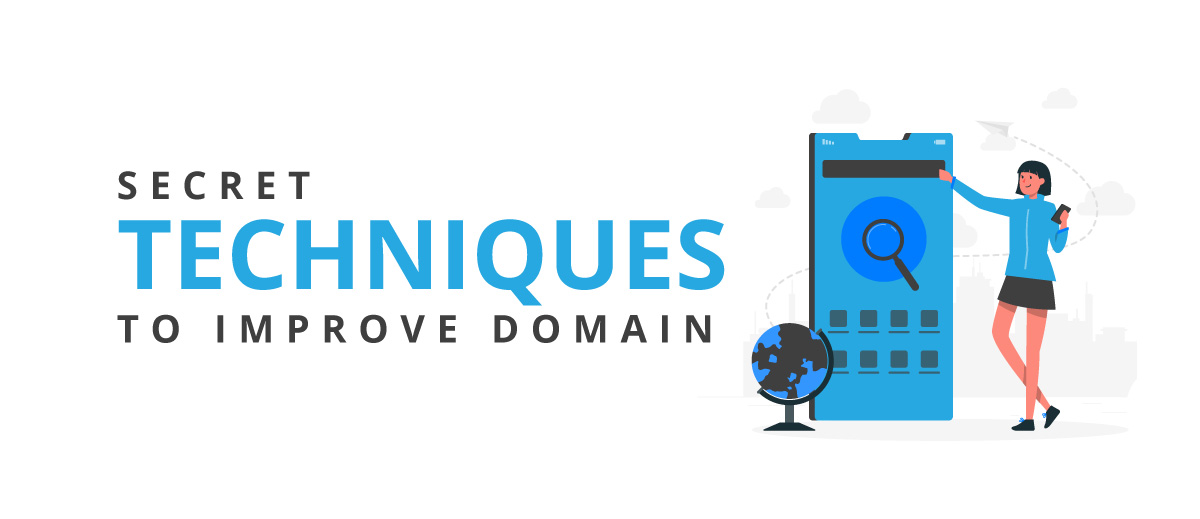 5 Secret Techniques To Improve Domain.
A domain name is a special name of your website that is assigned to a unique IP address.
Instead of typing the long complex IP address in the search bar, you only type a domain name that is user-friendly and easy to remember. In this article, I'll discuss some techniques to improve your domain.
Apply These 5 Secret Techniques To Improve Domain:
1. Improve Your Off-Page SEO
The profile that you connect is the most important unit among all. Websites with a powerful and clear profile linking as compared to the websites with no good profile linking have higher Domain Authority. 
A profile is called a powerful link profile when it is connected with higher and related authority websites, doesn't have bad or low profile linking, and is linked with a lot of unique domains.
It's important to improve profile linking through a technique known as Off-page SEO. Through this process, you can access good links that will ultimately improve your website ranking.
It's important to get rid of bad links to make your link profile powerful. Get good profile links from other allied websites to enhance your domain.
There are 2 ways to get good profile links; natural link building and blogger outreach.
Having attractive content on your website that engages links from other websites is known as natural link building. Through this, one can access your website and can read articles and like it and later link to other articles only if you have link-worthy content on your website. In blogger outreach, you reach out to other webmasters and tell them that you exist. It will enhance your chances of linking your website to their articles.
2. On-Page SEO Optimization
Another technique to improve your domain is to work on On-page SEO. Its most important factor is to optimize titles and description of your website, properly use heading in your content, SEO optimize your videos, images, and other related media content, proper use of keywords, the addition of internal links, format your content to get more chances to rank in Google's featured snippets and URL structure and SEO optimized permalinks
Quality of the content is the most effective factor to rank your website for both ON-page and off-page SEO. According to Google in its SEO guide, it is significant to keep your content new and up to date.
3. Improve Your Technical SEO
Technical SEO is associated with low-level SEO tasks and generally, if you take a good checkup on your technical SEO from the beginning, you don't have to transact with it again and again.
But if you don't keep a check and balance on technical SEO, then it can have a bad impression on your Domain Authority and rankings.
The acute SEO sites you need to check to include are to register your website with Google search console and Bing Webmaster tools and to make and optimize your XML sitemap and submit to Google. Patterned your robots.txt settings and use Fetch as Google to confirm that Google and other search engine spiders can creep your website without any issue or glitches. Make sure that you have an accurately distinct breadcrumb tariff on all of your pages. Contemplate wandering your website to HTTP.in case of having a multilingual website, make appropriate use of hrefLang. To help search engines understand the context of your content, add structured data (schema) information.
4. Make your Website Mobile Friendly
It's compulsory to have a mobile-friendly website. The reason is that maximum users start their search on mobile and then continue on Desktop. Not having a responsive website, harms your inclusive Domain Authority Score. Mobile-friendliness is a ranking factor for your website. People use mobile more than desktop so mobile searches are more than desktop mostly up to 60%. Google is working on a mobile-first catalog and not mobile-friendly websites are not included.
5. Upturn Your Social Signals
Though social signals are not part of the Google ranking algorithm there is a fair pattern between pages that rank high on Google and social signals. Those Pages, which are most popular in Google, incline to have more likes, comments, shares, and tweets. To enhance your domain authority you need to make sure to create your Facebook business page and try to engage more followers. It's necessary to have an active social media occurrence in some of the social networks so that the content you share will get more grips. Add a social media button on your pages to make it informal for readers to share your content to enhance your domain authority and to check that your content looks good when shared using the social media sharing button.
I highly recommend you apply these 5 secret techniques to improve domain.